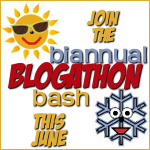 This weekend I'm participating in the Biannual Blogathon Bash. I will be dedicating much of my weekend to completing items on my blogging to do list. If you would like to participate just click
here.
It's going to be kind of a crazy weekend since Jacob officially turns 13 on Sunday and we are going to the Giants vs A's game,
but I'm going to spend as much time as possible on my blog without ignoring my family completely.
Here are the things I hope to accomplish
1. Update my About Me section
2. Change my Follow Me buttons
3. Figure out how to add Pin it buttons on my posts
4. Brainstorm 10 blog post ideas
5. Make a Blog/Work/Family schedule
6. Set up a Twitter chat account
7. Open a Stumble upon account
8. Add additional pages to my blog
9. Make and order business cards
10. Participate in at least 2 Blogathon Bash Challenges
Wish me luck and keep checking my blog for my progress.
Until next time,
Karri