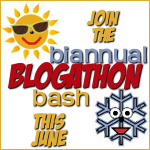 I've completed my first Blogathon and I'm so sad it's over. I met some wonderful bloggers who have been a great help and support. I'm looking forward to staying in touch with them and participating in the winter blogathon.
I spent about 15 hours total over the 3 days on my to do list and participating in the challenges. The goal was 24 but I'm happy with 15 since it was a very busy weekend for our family.
I was able to complete almost everything on my list, I just need to finish my blog/work/family schedule. I am almost done with it. Probably I will be done before bed time.
If you need a refresher here is my to-do list: Everything in black was from my update post from yesterday. I'm using purple for today's update.
Here are the things I hope to accomplish
1. Update my About Me section
2.
Change my Follow Me buttons -
had a problem with one button but with help from other blogathon participants I should have the problem solved today
I was able to finally fix my problem with my RSS feed button thanks to the amazing participants of the blogathon.
3. Figure out how to add Pin it buttons on my posts
This turns out to be so much easier then I thought it would be. I added Pin in buttons to all my posts for the month of June.
4. Brainstorm 10 blog post ideas
5. Make a Blog/Work/Family schedule -
should be done tonight
6. Set up a Twitter chat account
7.
Open a Stumble upon account -
To be honest I found I don't really like Stumble upon so I don't think I'm going to end up using it -
I did add Stumble upon button on some of my posts though
8. Add additional pages to my blog - I added a Grab My Buttons page and a Featured In page. I also redid my The Family page
9. Make and order business cards
I can't wait to see how these turn out. I used my Scrapbook Max software to make them. They will be a square shape with a QR code on the back so people can access my blog by clicking the code with their smart phone.
10. Participate in at least 2 Blogathon Bash Challenges - I leaned how to make a photo collage using PicMoney. Check out My Little Beauty Queen here and I created a Fav Con. Check out the tab on the top of your screen when you are open on me blog. Notice me new logo it's a T for Treasure of course.
I decided that 2 challenges was not enough, I completed 5 more challenges yesterday and this morning
. I
learned to create a better tweet on Twitter. I completed a blog notebook. I signed up for Picket Fence so please take some time to hit the picket fence button on the blog to vote for My Life's a Treasure. I read about different groups that offer blogging support and signed up for one called She Speaks. I was also introduced to three new Twitter Tools - Tweriod which looks at my twitter feed and determines the best times for me to send a tweet; Buffer which allows me to schedule my tweets based on the feedback from Tweriod and finally Twylah which turns my tweets into a very attracted magazine page. I had to request an invitation to Twylah so I won't see the results until I receive that.
I also read a number of great blog posts that will help me as I grow as blogger - I am very excited to begin using all my new found knowledge.
My recommendation is this- if you are a blogger be sure to sign up for the Winter Biannual Blogathon, if you are not a blogger but are thinking of getting started - Do it! Then sign up for the Winter Biannual Blogathon.
I would like to that Kathleen at Callistas Ramblings for putting together the blogathon. I could tell it was a ton of work.