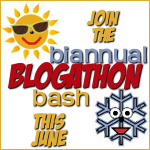 I have completed my first day of the Biannual Blogathon Bash and I have had so much fun. I was able to put 5 house into my blog yesterday which was wonderful. Here is my list and what I accomplished so far
Here are the things I hope to accomplish
1. Update my About Me section
2. Change my Follow Me buttons - had a problem with one button but with help from other blogathon participants I should have the problem solved today
3. Figure out how to add Pin it buttons on my posts
4. Brainstorm 10 blog post ideas
5. Make a Blog/Work/Family schedule
6. Set up a Twitter chat account
7. Open a Stumble upon account - To be honest I found I don't really like Stumble upon so I don't think I'm going to end up using it
8. Add additional pages to my blog - I added a Grab My Buttons page and a Featured In page. I also redid my The Family page
9. Make and order business cards
10. Participate in at least 2 Blogathon Bash Challenges - I leaned how to make a photo collage using PicMoney. Check out My Little Beauty Queen here and I created a Fav Con. Check out the tab on the top of your screen when you are open on me blog. Notice me new logo it's a T for Treasure of course.
I'd love to thank Kathleen who put together the Biannual Blogathon Bash. I am having so much fun- today I will finish more of the items on my list and also complete more challenges. The challenges are so fun and inspiring I can't do just 2. I will probably get another 5 hours in today since Jacob has three basketball games, I can't wait to get started.
Please take some time and look around at my changes and keep checking back to see what I've done.
Until next time,
Karri